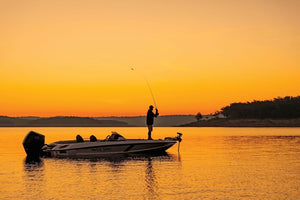 THE LURES USED BY SERIOUS FISHERMEN.
CATCH HIGH QUALITY FISH AND EVEN DOUBLES WITH DIXIE JET LURES!
mimics a dying shad
Match The Hatch.
All of our spoons are made with marine grade brass that perfectly replicate the way dying shads move and sound underwater.
quality fish and doubles
Catch More Fish.
Since the early 60's fishermen have been using Dixie Jet to catch fish. At this point it's clear the only thing a Dixie Spoon doesn't do for you is reel it in.
Dixie Jet Spoons Are The Angler's Choice For Catching Fish When All Else Fails.
Fishermen Video Reviews of Dixie Jet Lures
Spoon Fishing on Table Rock
Watch Video
Table Rock Lake Weekly Fishing Report
Watch Video
Tips from the Table Rock Pros
Watch Video
Dixie Jet Flutter Spoon Review
Watch Video
Dixie Jet Lures Original Flutter Spoon | First Look 2021
Watch Video
Catching Fish with Dixie Jet Slab Spoons
Watch Video