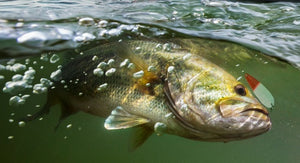 The Story of dixie jet lures
The Dixie Jet Mission:
To always have a Dixie Jet Spoon within arms reach.
early 1960's
The Beginning.
From the early 60's, Dixie Jet Spoons have been catching all species of fish in clear water & salt water. Fish have proven time-and-again that a Dixie Jet Spoon is the best choice.
early 1970's
Production Stopped.
The early 70's was a troubling time for Dixie Jet. Production completely halted with the death of its founder and the last of the Dixie Jet Spoons were quickly disappearing.
2010
Bringing Back The Legend.
For many years' companies have tried, unsuccessfully, to reproduce the Dixie Jet Spoon. Thanks to Basswishes Tackle and Tom Murphy, the Dixie Jet Spoons were brought back and are better than ever
Tom Murphy
One Soldier's Dream
Dixie Jet Lures was brought back by Tom Murphy, a retired Army Lieutenant Colonel, who served twenty-five years on active duty.
Tom's desire to bring the legendary Dixie Jet Spoon back to life was predicated on the fact that every aspect of these spoons had to be made with precision and every component in the manufacturing process had to take place within the United States.
present day
Current Operations
Countless fishermen nation-wide use our spoons and catch large numbers of quality fish with Dixie Jet. You can too!
View Spoons